This is an archived article and the information in the article may be outdated. Please look at the time stamp on the story to see when it was last updated.
Deputies seized about $25,000 worth of marijuana on Wednesday from a La Puente dispensary that was branded to resemble a church and operating without proper permits, officials said.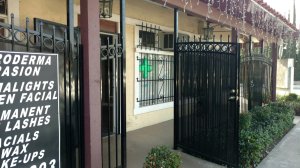 A three-week investigation into The Citadel Church of La Puente, located at 15554 Amar Road, revealed the business that was licensed to repair cell phones was actually a dispensary selling marijuana, cannabis concentrate and packaged edibles, the Los Angeles County Sheriff's Department said in a press release.
The probe culminated in the serving of a warrant at the pot shop around 1 p.m. Wednesday.
Deputies ultimately seized about four or five pounds of marijuana products, a scale, surveillance equipment and $295 in cash, officials said.
A black man, whom sheriff's officials described as a "known gang member," and an Asian woman were detained, cited and released, deputies said.
A white man was also arrested; however, he was released without being cited, according to the Sheriff's Department.
Detectives are continuing to investigate the dispensary operation.