This is an archived article and the information in the article may be outdated. Please look at the time stamp on the story to see when it was last updated.
An armed man involved in a hourslong standoff with deputies in La Mirada was fatally shot Tuesday morning after exiting a convenience store and appearing to open fire on authorities.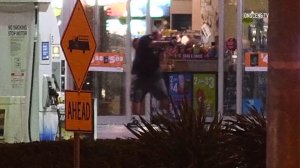 The incident began about 9:15 p.m. Monday when an armed man entered an ampm in the 13500 block of Beach Boulevard, Los Angeles County Sheriff's Department Lt. Jeff Dusky said.
The man ordered customers and employees to get away and barricaded himself inside the store for about three hours, Dusky said.
At one point, the man fired one round through the front window of the store, officials said. As he walked to the front door of the store holding a handgun, a deputy-involved shooting occurred, a news release from the Sheriff's Department stated.. The man then went back into the store.
At 12:25 a.m., video showed the man open the front door, step outside and begin shooting at deputies.
Authorities also opened fire, striking and killing the man, Dusky said.
The man's weapon was found at the front of the store, according to the news release.
No deputies or civilians were injured in the incident.
The man's identity has not been released and the incident remains under investigation.
Detectives will be reviewing surveillance video from the store.
KTLA's Cindy Von Quednow contributed to this story.