This is an archived article and the information in the article may be outdated. Please look at the time stamp on the story to see when it was last updated.
Deputies uncovered a cache of rifles, handguns and ammunition Friday after serving an arrest warrant for a San Bernardino couple suspected of shooting at the vehicle of a family of four.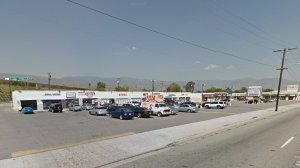 Jose Luis Saldivar, 38, and Connie Antonia Rivera, 38, were wanted in connection with an Oct. 31 incident in which the victims say they and their two small children were followed and shot at by the pair after the family bumped their car into the suspects', according to a press release from the San Bernardino County Sheriff's Department.
The victims were leaving 5ive & Fly Pizza on the 1700 block of Highland Avenue in San Bernardino when their vehicle made contact with the suspects' light-blue Chevy Equinox and the family apologized to the car's occupants while still in the parking lot, officials said.
But the Equinox pursued them to the intersection of North State Street and West Darby Street in Muscoy, deputies said, where the driver pulled alongside the victims' driver-side window at shot at them with a pistol, nearly missing.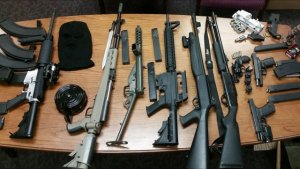 A police search conducted that night produced no results, but detectives were able to uncover a high-resolution image of the suspects' license plate, the release states. Saldivar was the registered owner and he was positively identified by the victims, and additional leads pointed to Rivera as the female passenger, authorities said.
Deputies served the warrant early Friday as the couple was about the leave their home in the Equinox. They were detained without incidence, although a loaded revolver was found in Saldivar's front pants pocket, officials said.
After searching the home, authorities said they found numerous assault rifles and handguns along with ammunition, high-capacity magazines and manufactured or altered gun parts Saldivar had been working on in his garage.
Both Rivera and Saldivar have an extensive criminal history and Rivera is a convicted felon with prior prison terms, according to law enforcement.