This is an archived article and the information in the article may be outdated. Please look at the time stamp on the story to see when it was last updated.
A 26-year-old gunman died Tuesday morning after a standoff and deputy-involved shooting in East Los Angeles, authorities said.
Deputies responded about 2:46 a.m. to the 100 block of North Gage Avenue (map) after receiving a call reporting a gunshot victim, said Deputy Crystal Hernandez of the Los Angeles County Sheriff's Department.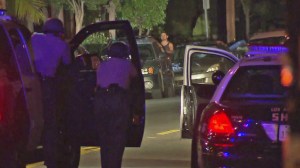 When the deputies arrived they discovered a woman suffering from a gunshot wound, Hernandez said. The female victim was transported to a hospital in stable condition.
Deputies removed the woman's children, a 1-year-old and a 4-year-old, for their safety, the Sheriff's Department said in a statement.
News footage showed them being placed in a patrol car by deputies. The children were later taken into protective custody.
Meanwhile, an armed man at the scene refused to comply with authorities, according to the Sheriff's Department, and a standoff ensued. Deputies and SWAT officers established a perimeter in the area.
News footage showed the man standing on a sidewalk outside a home, holding a handgun and a cellphone.
"The suspect brazenly held the firearm and refused to put it down," which led to the standoff, Hernandez said.
At 4:15 a.m., the man shot at deputies, who then returned fire, the Sheriff's Department said. Multiple rounds were fired in the exchange.
The man was taken into custody after being struck by gunfire; he was pronounced dead at the scene.
His name was not immediately released. Initial reports had indicated that he was 35 years old.
No deputies were injured in the shootout.
A weapon was recovered at the scene, authorities said. An investigation is ongoing.