This is an archived article and the information in the article may be outdated. Please look at the time stamp on the story to see when it was last updated.
What began as a report of a possible burglary Saturday afternoon led deputies to discover an uproot more than 1,000 marijuana plants from a La Mirada commercial building and arrest four women and a man, authorities said.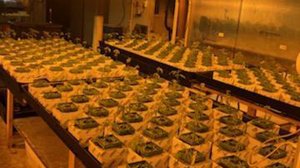 A tipster called the Los Angeles County Sheriff's Department about 5:30 p.m. to report seeing what they thought was someone trying to break in to a building in the 14000 block of Industry Circle, Lt. Tracy Stewart said.
But when deputies arrived, they found the building was being used as an illegal marijuana-growing operation, officials said.
Four women and a man were arrested without a struggle and expected to face charges related to illegally cultivating marijuana.
"There are legal ways, but this isn't," sheriff's officials said via Twitter.
Deputies discovered an illegal marijuana grow in the City of La Mirada! Great job keeping the city safe! #LaMirada #LASD pic.twitter.com/nFzfaJnBO7

— LASD Norwalk Station (@NorwalkLASD) October 28, 2018