This is an archived article and the information in the article may be outdated. Please look at the time stamp on the story to see when it was last updated.
A 31-year-old deputy who is the fourth on-duty California law enforcement officer to have been killed in the past two weeks was identified late Wednesday by the Modoc County Sheriff's Office.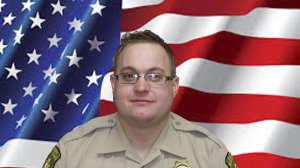 Deputy Jack Hopkins was sent to check out a report of a family disturbance call in a rural area about 8 miles south of Alturas about 10:30 a.m. Wednesday when the shooting occurred, according to a sheriff's news release posted to Facebook.
When he entered the property, Hopkins was confronted by the "main" suspect — identified by authorities as 47-year-old Jack Lee Breiner — who then opened fire on the deputy, killing him "instantly," according to the release.
Breiner then fled the scene, where he was intercepted by Modoc County Sheriff Mike Poindexter, who also responded to the call, the release stated.
The two exchanged gunfire, and the sheriff shot the suspect.
After being treated at the scene, Breiner was taken into custody and transported to a hospital in Redding.  He is expected to recover, according to the Sheriff's Office.
Poindexter sustained minor injuries, but returned immediately to his job.
The incident prompted a large response from multiple agencies, including a number of local sheriff's departments, the California Highway Patrol, Cal Fire, the U.S. Forest Service, the Bureau of Land Management, and the California Department of Justice.
The shooting remains under investigation.
Hopkins had worked as a sworn deputy in the department since 2015. Before that, he was employed by the Alturas Police Department, where he was described as "probably the nicest man."
"When he pulled you over for a headlight, or something you did, he always was courteous and had a smile on his face. He didn't have a mean bone in his body, just a great guy. He is missed by all of us," the Alturas Municipal Airport wrote in a Facebook post.
Hopkins is survived by his extended family, which included five siblings, and his beloved dog, Bandit, according to the release.
A procession was held in his honor late Wednesday night; the fallen officer's body was taken from Alturas Thursday morning to Redding, about 150 miles away.
Alturas is a city of about 2,800 residents in the rural, far northeastern corner of the state.
The Sheriff's Office is planning to hold a memorial service, but details have not been released.
Hopkins is the fourth law enforcement officer in California to have been shot and killed while on duty in the past two weeks.
Los Angeles County Sheriff's Department Sgt. Steve Owen died after being shot "execution-style" just after noon on Oct. 5 after responding to a burglary call in Lancaster.
Three days after that, Palm Springs Police Department officers Lesley Zerebny and Jose "Gil" Vega were killed in an "ambush" shooting that also left another officer injured.