This is an archived article and the information in the article may be outdated. Please look at the time stamp on the story to see when it was last updated.
A sheriff's deputy rescued a suicidal inmate by grabbing his wrist as he attempted to jump from a second-level walkway inside the Twin Towers Correctional Facility in downtown Los Angeles, authorities said Monday.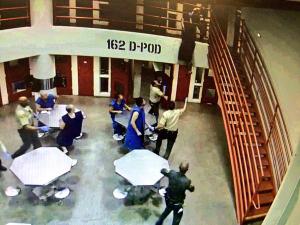 The incident happened June 22 in Module 162, which houses 192 of the jail's approximately 2,400 mentally ill inmates, according to a news release from the Los Angeles County Sheriff's Department.
Deputy Clarissa Torres was walking along an upper tier and allowing inmates to exit their cells to participate in group therapy, a daily occurrence in which service providers lead activities in a recreation room, the statement said.
After an inmate told the deputy that he and his cellmate wanted to take part in the session, Torres opened the cell door and directed them to the dayroom.
"As the inmate neared the stairs, he climbed head first over the railing and began to lunge forward, attempting to jump off the upper tier," the Sheriff's Department said.
Surveillance video shows the deputy grabbing the man's wrist as he lets go of the railing. Deputies on the floor below grab the dangling inmate's legs as other deputies rush help Torres.
The man was then then lowered to the floor, uninjured, and handcuffed without incident, authorities said.
Sheriff's officials were expected to discuss the incident at a news conference Monday morning.
#LASD Custody Deputies discuss how they saved a suicidal inmate from falling by grabbing his wrist @LASDHQ @JailsLASD pic.twitter.com/5XUQxGuhgj

— Nicole Nishida (@PIONicoleN) June 29, 2015