This is an archived article and the information in the article may be outdated. Please look at the time stamp on the story to see when it was last updated.
A San Bernardino County sheriff's deputy was injured Friday when his patrol car collided with a semi-truck in Rancho Cucamonga, authorities said.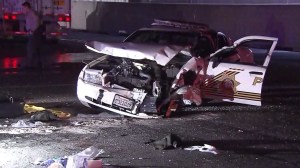 The deputy was transported to a hospital after reportedly being ejected on impact near the intersection of 4th Street and Hermosa Avenue. His condition was not immediately known.
The deputy's car apparently collided with the semi-truck's fuel tank, causing a diesel spill. Traffic in the area was diverted while a hazmat team worked to clean up the spill.