This is an archived article and the information in the article may be outdated. Please look at the time stamp on the story to see when it was last updated.
A suspect has been arrested after a deputy was stabbed  in Santa Clarita Valley Monday morning, authorities said.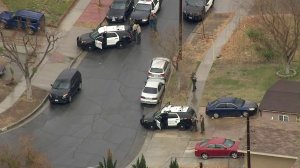 Donald Chinchilla, 21, allegedly stabbed an on-duty deputy in the chest after asking whether he was indeed an officer at a Jack in the Box in Canyon Country around 10 a.m. The restaurant was located near Soledad Canyon Road and Crossglade Avenue, authorities said.
The victim, a 26-year veteran with the Los Angeles County Sheriff's Department, was rushed to the hospital, according to the agency. He's expected to be fine.
At the time of the attack, he was not wearing his uniform but he did have on a sheriff's badge and name badge, officials said.
The suspect was previously arrested for a misdemeanor on Nov. 29 and was released on Dec. 6, jail records show. Details about that case weren't immediately available.
The Sheriff's Department said Chinchilla fled to a residential area in the 2700 block of Altamere Avenue after attacking the officer. A K-9 located the suspect hiding in a backyard and bit him, Capt. Darren Harris said.
Nearby, Canyon Springs Community Elementary School was put on a soft lockdown as authorities tried locating Chinchilla, officials said.
He was taken into custody around noon. He underwent medical clearance before being booked on suspicion of attempted murder on a deputy sheriff, Harris said.
Officials recovered a large kitchen knife at the scene, according to the Los Angeles Times.
No other injuries were reported.
#LASD SEB and @SCVSHERIFF personnel worked together to locate and arrest the assault w/deadly weapon on a Deputy suspect in the area of Nearbrook St. and Altamere Ave, Canyon Country. Neighborhood is safe. pic.twitter.com/sUkpH9prvY

— SEB (@SEBLASD) January 8, 2018
❗️ADVISORY- POLICE ACTIVITY Avoid areas east of Whites Canyon Rd. i.e.; Crossglade/Nearbrook/Stillmore. Containment, looking for suspect.

— SCV Sheriff (@SCVSHERIFF) January 8, 2018
BREAKING: A law enforcement officer has been stabbed in Santa Clarita near Soledad Canyon Road and Crossglade Avenue. The wounded officer is being transported with police escort. pic.twitter.com/C5TZeFDvtz

— Austin Dave (@AustinDave_) January 8, 2018