This is an archived article and the information in the article may be outdated. Please look at the time stamp on the story to see when it was last updated.
A man believed to have been involved in separate stabbing and carjacking incidents Friday morning was shot and killed by authorities in Chino Hills after allegedly charging at sheriff's deputies with a gun and a knife.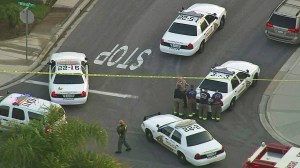 The events began to unfold just before 6 a.m., when deputies found a man with stab wounds at a home on Hickory Lane (map), according to Cpl. Randy Naquin of the San Bernardino County Sheriff's Department.
The stabbing victim was taken to a hospital in stable condition, Naquin said.
The attacker left the home, "attempted several carjackings, then successfully carjacked a woman at gunpoint" on Willow Lane, stated a news release issued Friday afternoon by the San Bernardino County Sheriff's Department.
The man then crashed the vehicle, again fled on foot, forced entry into a nearby home on Brushwood Court (map) and became combative with the homeowner, the release stated.
When deputies arrived at the home, the man allegedly came outside carrying a gun and a knife, refused to comply with commands and then charged at deputies.
Deputies opened fire, killing the man, who was later identified as Jason Roy Wilson, 25, of Chino Hills.
KTLA's Courtney Friel contributed to this report.