This is an archived article and the information in the article may be outdated. Please look at the time stamp on the story to see when it was last updated.
A man was injured in a deputy shooting in a gated retirement community in Laguna Woods, authorities said Tuesday.
The incident may have stemmed from some sort of dispute between a realtor and the suspect, a witness told KTLA.
The "deputy-involved shooting" took place in the 600 block of Avenida Sevilla, the Orange County Sheriff's Department said on Twitter about 2:45 p.m.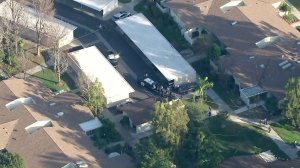 "Initial reports indicate one suspect injured and transported to local hospital, no deputies injured," the tweet stated.
A sheriff's lieutenant at the scene provided no additional details, saying only that someone was shot.
The retirement community Laguna Woods Village posted on its website that deputies were responding to a report of "shots fired" when the shooting occurred.
"The shooter, a member, was shot by deputies and transported to an area hospital," the community's statement read. His condition is unknown.
Aerial video from Sky5 showed deputies investigating along a residential street and in a nearby grassy area and covered parking area. Dozens of deputies and investigators remained on scene after sunset.
The community statement indicated the Sheriff's Department responded about 2:10 p.m.
"Something so small turned into something so big so fast," said Dennis Metzler, a contractor who witnessed the shooting.
He said he and a realtor were delivering a floor plan to a client and he was waiting outside while the realtor and the man spoke. Metzler said the man then started yelling and he threatened Metzler. The realtor later told the man to put the gun down, that's when Metzler said he called police.
He said authorities asked the man to drop the gun, but the man, who had become agitated, told police to shoot him. Metzler said the man had been drinking and smoking in recent months and his "attitudes would change constantly."
Avenida Sevilla was closed at Avenida Majorca, and residents who live southeast of Avenida Majorca were encouraged to stay home, according to the Laguna Woods Village statement.
Laguna Woods Village is a gated residential community for those 55 and older. Formerly known as Leisure World, Laguna Woods Village is in the small city of Laguna Woods, which has about 16,000 residents, according to U.S. Census figures. The development opened in 1964.
KTLA's Cindy Von Quednow contributed to this story.