This is an archived article and the information in the article may be outdated. Please look at the time stamp on the story to see when it was last updated.
A deputy shot and wounded a man who officials say brandished an assault rifle during an encounter in Lennox early Saturday.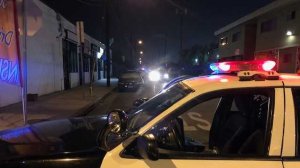 It began shortly before 3:30 a.m.  when someone flagged down deputies to report several men drinking alcohol in the 10600  block of South Burin Avenue, north of Lennox Boulevard, Deputy Grace Medrano of the Los Angeles County Sheriff's Department Information Bureau said in a written statement.
One man in the group walked away as deputies approached, she said.
"Deputies tried to detain the male adult who was walking away when the suspect produced an assault rifle-type weapon, at which time a deputy-involved shooting occurred," Medrano said.
The suspect was struck several times in the "lower torso," she said. He was hospitalized in fair condition.
Detectives were still looking into whether the suspect fired his rifle during the encounter, officials said. The weapon was recovered at the scene.
"At this time, it appears only one deputy fired his duty weapon several times at the suspect," Medrano added.
The investigation is being spearheaded by sheriff's homicide detectives.
Anyone with information can reach the Sheriff's Homicide Bureau at 323-890-5500. Tips may also be submitted anonymously to L.A. Regional Crime Stoppers at 800-222-8477.