This is an archived article and the information in the article may be outdated. Please look at the time stamp on the story to see when it was last updated.
A Rancho Cucamonga patrol sergeant was stabbed multiple times Monday morning outside a Hobby Lobby in Rancho Cucamonga, officials said.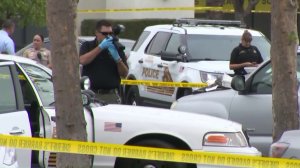 The official responded to a 911 call from someone claiming they had been abducted at the store, within the shopping complex on the 10600 block of East Foothill Boulevard, shortly after 9 a.m., according to Cpl. Ruben Perez with San Bernardino County Sheriff's Department.
A sheriff's news release later stated that patrol Sergeant Kimberly Watkins had responded to a welfare check following a call from a man making "incoherent statements."
The caller turned out to be a man wielding a knife, and once the sergeant responded an altercation ensued, investigators said.
She was stabbed several times and subsequently taken to a nearby trauma center, where she was listed in critical but stable condition, according to Sheriff John McMahon.
"She does have a stab wound in the shoulder that they're treating, as well as a couple of lacerations on her face and head," McMahon said.
She also fired her three rounds of ammunition at the man after being attacked, sheriff's officials said.
The armed man — identified as Kenneth Perry — received a graze wound to the upper thigh. Officials originally said that he was unharmed.
The sergeant was able to hold him at the scene despite her injuries.
Jonathan Schultz, who witnessed the incident, said although she was visibly hurt, the sergeant "kept her composure very well and did what she was supposed to do."
Additional deputies responded to the scene and took him into custody. A 6- to 8-inch knife was also recovered, authorities said.
Perry was taken to a hospital for medical evaluation before being booked at the West Valley Detention Center, the release stated.
The incident remains under investigation, and anyone with information is asked to call Detective Nick Clark at 909-387-3589. Additionally, those who would like to leave a tip anonymously are asked to call the We-tip Hotline at 1-800-782-7463 or go to the website www.wetip.com.