This is an archived article and the information in the article may be outdated. Please look at the time stamp on the story to see when it was last updated.
A Ventura County Sheriff's Office deputy was killed by a suspected DUI driver on the 101 Freeway while conducting a traffic stop in Camarillo early Tuesday, authorities said.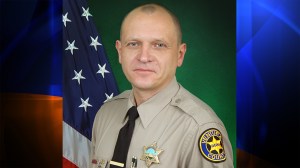 Deputy Eugene Kostiuchenko was struck in the area of the 101 Freeway and Lewis Road around 1:15 a.m. by a motorist who fled the scene, according to a news release from the Ventura County Sheriff's Office.
Kostiuchenko, 41, had just released the traffic violator who had been stopped and was walking back to his vehicle when he was struck by a vehicle that sideswiped his car, according to Ventura County Sheriff Geoff Dean.
The deputy died instantly, Dean added.
The driver continued driving on the freeway and crashed his vehicle a short distance away in the area of the 101 and Las Posas Road, the release stated. He was identified as 25-year-old Kevin Hogrefe of Camarillo and arrested on suspicion of DUI.
During a news conference at the scene, Dean called the deputy's death "another tragic life lost because of driving under the influence."
Kostiuchenko had served with the department for 11 years, according to Dean. He is survived by his wife and two step-children.
Kostiuchenko was a Ukranian immigrant who had dreamed of becoming a sheriff's deputy, according to Sgt. Eric Buschow, a colleague.
Buschow described him as a funny and good-natured guy.
"Everyone's going to remember his sense of humor," Buschow said, adding that he was "just a great, great guy."
The Flynn Road on-ramp to the northbound 101 Freeway was closed while California Highway Patrol officers and the Ventura County Sheriff's Office investigated the crash, as was the Las Posas off-ramp from the northbound 101.
KTLA's John A. Moreno contributed to this report.
More Video: