This is an archived article and the information in the article may be outdated. Please look at the time stamp on the story to see when it was last updated.
A "split-second" decision by deputies to drive a 4-year-old boy directly to the hospital after an East Compton gang shooting may have helped save his life, the deputies' captain said Thursday.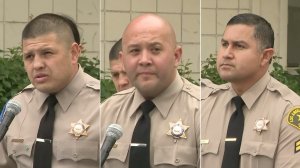 The child, who has not been identified, was struck in the head by a stray bullet after a physical fight involving five men erupted into gunfire, according to Capt. Michael Thatcher of the Compton Sheriff's Station.
A suspect who is believed to be the shooter is in custody, the captain said at a news conference. He provided no details on the arrest amid an ongoing search for others involved in the shooting.
Three deputies who responded to the shooting shortly before noon Wednesday found a sedan with the boy in the rear seat, motionless in his car seat. His mother and another child were in the car too.
The deputies split duties, with Los Angeles County Sheriff's Department Deputy Art Gonzalez attending to the victim, who was still in his car seat. He had a gunshot wound to the head but there was little blood, Gonzalez said.
Seeing his condition, the deputies chose to take the child to St. Francis Medical Center without waiting for paramedics. Deputy Sergio Jimenez drove, Deputy Brian Reza remained at the scene, and Gonzalez picked up the little boy.
"I unbuckled him from his child seat and cradled him," Gonzalez said. "I'm talking to the child, just telling him to hang in there. … That's all I remember."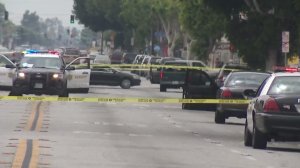 Jimenez sped in a patrol car from the shooting scene near Atlantic Avenue and Compton Boulevard to the hospital, about 3 miles away. They arrived at the hospital within 90 seconds, Gonzalez said.
St. Francis, meanwhile, was prepared for the victim's arrival, according to Dr. Edward Kwon, an emergency room physician at the hospital. The child was not breathing and in critical condition when he arrived, but an airway was established and the boy was stabilized for further transport to a hospital in Long Beach, where he is now getting care.
Kwon praised the deputies.
"Their quick thinking and quick judgment in a time of extreme emotion to contribute to delivering rapid care," Kwon said.
The deputies all remarked they have families of their own and were moved by the situation. Gonzalez said he and his colleagues hoped to visit the patient later Thursday.
"It also serves as a brutal reminder to these deputies … of what a day's work can entail. These deputies showed up to work early this morning after living the event they lived yesterday," Thatcher said.
The child's current condition was not clear though the Sheriff's Department indicated he was stable of as Wednesday night; Kwon indicated he had not received an update from doctors in Long Beach.