This is an archived article and the information in the article may be outdated. Please look at the time stamp on the story to see when it was last updated.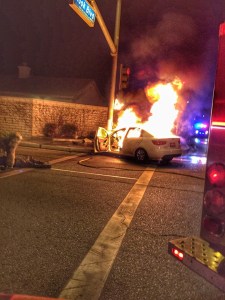 A sheriff's deputy helped another person pull an unconscious driver from a burning car in Victorville on Friday morning.
The crash occurred just before 4 a.m. at El Evado Road and Hook Boulevard, according to a new release from the San Bernardino County Sheriff's Department.
A witness told authorities a vehicle was smoking after colliding with a traffic signal pole. No occupant was initially visible, but when the vehicle caught fire, authorities learned someone was in the vehicle not moving.
Deputy Asiah Medawar arrived on scene to find an unidentified citizen was near the opened driver's door as flames began entering the passenger area of the vehicle.
The driver was unconscious and had slid partially under the car's dashboard area due the crash impact.
Medawar and the other person pulled the driver out of the vehicle and dragged him away.
"Within a minute or two after removing the driver, the car became fully engulfed," the news release stated. "He would have surely died in the fire."
Photos from the scene showed the white Kia sedan — with a totaled front end — largely consumed by fire.
The driver was taken to Arrowhead Regional Medical Center, suffering from severe burns to his right hand.
The man was airlifted in critical condition, according to a county Fire Department Facebook post.
Firefighters first treated then patient then, as additional personnel arrived, were able to put out the flames. Dramatic photos showed firefighters working on the man in the roadway as the car smoked nearby.
Anyone with information about the crash was asked to call the sheriff's Victorville Station at 760-241-2911.