This is an archived article and the information in the article may be outdated. Please look at the time stamp on the story to see when it was last updated.
A Los Angeles County sheriff's deputy was injured when his gun accidentally discharged while serving a search warrant in South El Monte Thursday morning.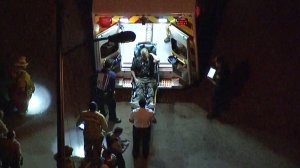 Aerial video from Sky5 showed the injured deputy being loaded into an ambulance in the 11200 block of Broadmead Street about 5:30 a.m.
The deputy was seen sitting up in a gurney and apparently talking to emergency crews as he was being loaded into the ambulance.
Authorities were serving a search warrant at the location at the time of the incident, the Los Angeles Times reported.
A spokesperson at the scene later confirmed the deputy was injured after his weapon was accidentally discharged during the law enforcement operation.
The deputy suffered a graze wound to his leg but was expected to be OK.
Four people were detained in relation to the search warrant. They were being held pending an ongoing narcotics investigation, the Los Angeles County Sheriff's Department stated in a news release.