This is an archived article and the information in the article may be outdated. Please look at the time stamp on the story to see when it was last updated.
The typically blue waters of the Silver Lake Reservoir have changed to a brighter, greenish color, but the Los Angeles Department of Water and Power has said the water quality there appears normal after recent testing.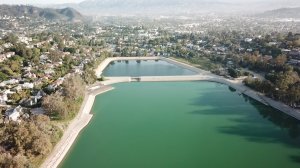 Drone footage and other images of the reservoir, which does not hold drinking water, show that it's turned green in recent weeks — with photos taken in mid-February and mid-April showing the stark contrast.
But such a change can be typical for some bodies of water, according to an LADWP spokesperson who on Tuesday referred KTLA to a statement posted to the utility's website.
"Natural lakes and raw water reservoirs can typically change color, such as green to green blue in the spring and summer months," the statement read, saying the color change "has no effect on the water quality."
The city utility is currently "monitoring" the water quality through recent tests, according to the statement. Those tests found that there did not appear to be conditions that would contribute to poor water quality, such as an algae bloom.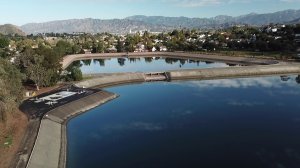 Current levels of algae in the water do not seem "uncommon" and are not expected to poorly affect the surrounding wildlife and ecosystem, officials said.
However, as algae growth fluctuates, the agency said it is continuing to keep an eye on the reservoir and will treat the water for algae control if necessary.
In the future, public officials plant to install aeration and recirculation systems at the reservoir that will "help slow the growth of algae in the water," the LADWP statement explains.
Those systems are being designed and their construction is expected to be complete by fall of 2020, officials said.