This is an archived article and the information in the article may be outdated. Please look at the time stamp on the story to see when it was last updated.
A state appeals court judge ruled Saturday that Southern California Gas Co. can resume operations at its Aliso Canyon natural gas storage facility, the source of the biggest methane leak in the country's history.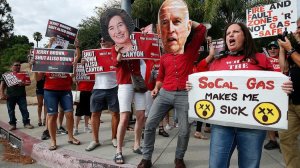 On Friday, L.A. County had been granted a temporary restraining order that would have halted the reopening. But a judge ordered the stay lifted on Saturday after the gas company filed a motion opposing the stay.
Chris Gilbride, a spokesman for Southern California Gas, said the Aliso Canyon facility has been deemed safe to operate by state regulators and the courts. He said the agency has made extensive upgrades to its infrastructure, technology and safety practices.
"Today's decision by the Court of Appeals is the right one," he said in a statement emailed to The Times. "Over the last 18 months, Aliso Canyon has undergone what state regulators have called the most comprehensive safety review in the country. We have met — and in many cases, exceeded — the rigorous requirements of the state's safety review."