This is an archived article and the information in the article may be outdated. Please look at the time stamp on the story to see when it was last updated.
The Sand Fire continued to scorch through the Santa Clarita area in the Angeles National Forest and grew to more than 33,000 acres, or about 52 square miles by Sunday night, according to the Los Angeles County Fire Department.
The massive inferno has left one person dead and destroyed at least 18 homes.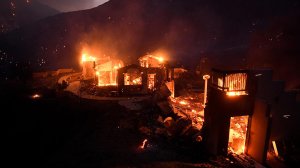 The Sand Fire, which had previously led to the evacuations of 1,500 residences, grew again overnight Saturday to 22,000 acres, or 34-square miles. By 10 p.m. Sunday the fire had grown 11,000 acres and remained 10 percent contained less than two days after breaking out near the 14 Freeway.
About 5 p.m. Sunday the blaze jumped Placerita Canyon and moved north toward the Via Princessa area, causing authorities to issue evacuations in that area.
The 14 Freeway was closed in both directions for hours but was reopened about 7:30 p.m.
Metrolink canceled the Antelope Valley 270 line to Los Angeles because of a track closure caused by the brush fire. Alternate transportation was not available.
Service will operate between Via Princessa and Los Angeles only on Monday.
Officials confirmed during a morning news conference that one person died in the fire, but did not immediately provide any information about the fatality.
Homicide detectives earlier said that they were investigating the death of a man whose remains were discovered by firefighters in the burn zone Saturday night, according to the L.A. County Sheriff's Department.
A cause of death was not yet known, but there was no immediate indication that his death was a "criminal event," a sheriff's news release said.
The man's neighbor told KTLA that the victim's home was among the structures that had burned down.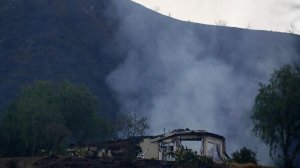 The buildings that have been destroyed or damaged were located in the Bear Divide and Sand Canyon areas, the Los Angeles County Fire Department said in a Facebook post.
At least 18 homes have been destroyed, according to the Fire Department.
"We lost those homes because they could not be saved," L.A. County Fire Chief Daryl Osbry said at the Sunday morning briefing.
At least 1,500 houses remained evacuated as of Sunday morning, the Fire Department's incident page showed. An additional 100 commercial buildings were threatened.
The following evacuations were ordered Sunday evening, according to the Los Angeles County Sheriff's Department.
East of the 14 Freeway from Golden Valley Road to Sand Canyon.
East side of Via Princessa from Lost Canyon to the end of Via Princessa.
All streets east of Lost Canyon Road from Via Princessa to Santa Clara River and all streets east of that area.
Agua Dulce Road to the west, Soledad Canyon Road to the south and Acton Camp to the east.
Sierra Highway and Shady Lane to Sierra Highway at the 14 Freeway
Escondido at the 14 Freeway to Sierra Highway at the 14 Freeway.
Shortly after 1 p.m., mandatory evacuations went into effect in the Acton area.
According to a Fire Department news release, the orders were for Agua Dulce Canyon Road north to the 14 Freeway, Crown Valley north to the 14, and all of Soledad Canyon in between. The order was amended a short time later to include all of Bootlegger Canyon.
It was not immediately known how many homes and residents were affected in the Acton area.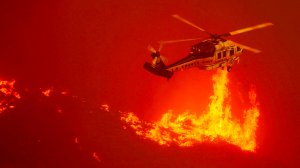 Mandatory evacuation orders remained in effect for the following areas: unincorporated Little Tujunga Canyon from Bear Divide to the Los Angeles River Ranger Station; Sand Canyon from Lost Canyon Road to Bear Divide, extended from Robinson Ranch Golf Course; and in Placerita Canyon, from the Nature Center to Sand Canyon, according to the latest information on the federal InciWeb website.
The evacuation for Sand Canyon residents was expected to be lifted at 1 p.m., but officials rescinded the repopulation plan due to an "unexpected wind event," the County Fire Department tweeted.
Anyone who has been evacuated can go to Hart High School at 24825 N. Newhall Ave. in Santa Clarita, or Lakeview Terrace Recreation Center at 11075 Foothill Blvd. in Lake View Terrace. A third center was opened Sunday afternoon at Highland High School, located at 39055 25th St. West in Palmdale, to accommodate the additional evacuations.
Another evacuation center, at Golden Valley High School, has been closed.
People who wish do donate to the American Red Cross can visit www.redcross.org/donate.
L.A. County Supervisor Michael D. Antonovich, who represents the burn area, told KTLA that he wants a state of emergency declared during the fire.
He urged residents to evacuate when authorities ask and to not fly drones during the firefighting effort.
Large animals can be taken to the Wayside Jack Bones Equestrian Center on The Old Road in Castaic, the Antelope Valley Fair Grounds at 2551 W. Avenue H in Lancaster or Pierce College, 6201 Winnetka Ave. in Woodland Hills. The Hansen Dam in Sylmar has reached capacity of large animals, officials said.
Hundreds of animals, including a Siberian tiger, were taken to safety after the Wildlife Waystation in Angeles National Forest was evacuated.
A number of road closures remained in effect for the area.
#SandFire Update* IC reporting fire is now estimated at 33,172 acres.

— L.A. County Fire Department (@LACoFDPIO) July 25, 2016
ROAD CLOSURES for #SandFire #LASD #SCV @LACoFDPIO pic.twitter.com/QrAQDHYTuV

— SCV Sheriff (@SCVSHERIFF) July 24, 2016
The Sand Fire broke out about 2:10 p.m. Friday along the northbound 14 Freeway near Sand Canyon Road, quickly scorching thousands of acres as it rapidly spread east of Santa Clarita.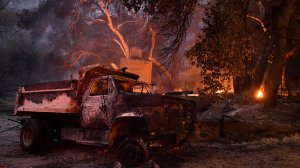 By the following evening, the fast-moving blaze had burned 20,000 acres as crews struggled to contain the fire. The cause remained under investigation.
More than 1,600 firefighters are engaged in the attack, aided by 122 engines, 15 helicopters and nine dozers, according to InciWeb.
Marc Peebles, who is part of the Southern California interagency management team in charge of the fire, told KTLA Sunday evening that fire officials are most concerned about Placerita Canyon and Soledad Canyon toward Acton.
The fire is burning through brush and chaparral in extremely steep terrain, and fire officials said the conditions have been worsened by the ongoing statewide drought.
"One thing we've been talking about … is the stress of the vegetation, the drought," L.A. County Fire Deputy Chief John Tripp said at the news conference. "Things got in alignment yesterday and that fire came through like a freight train."
Fire Department Chief Daryl Osbry added that the the drought was causing the fire to exhibit "extreme behavior," and urged residents in the area to be ready to evacuate at a moment's notice.
"I recognize for some of our citizens – they've seen fires before in some of these wildland-urban interface areas, but these are not normal times," he said. "'So when we say evacuate, that means evacuate."
Weather will continue to be a challenge, as a red flag warning is in effect for the Santa Clarita area, the forecast posted on InciWeb's page stated. Temperatures were expected to hit 97 degrees, which was lower than the triple-digit heat crews experienced the previous day.
Winds with speeds of 10 to 15 mph will be coming from the south, with gusts of up to 20 mph possible. Humidity will be around 10 percent.
The fire prompted Los Angeles County health officials to issue an advisory as smoke drifted across the Southland.
Air quality on Sunday was expected to be unhealthy once more in central Los Angeles, Pomona, and the San Fernando, San Gabriel and Santa Clarita valleys, according to the county's Department of Public Health.
A smoke advisory that went into effect on Saturday was scheduled to expire at midnight.
Residents looking for additional info on the Sand Fire can call the information hotline at 626-574-5208.
[googlemaps https://www.google.com/maps/d/embed?mid=1AT_fyUH40RINH0Y9dVYxLhwF27k&w=640&h=480]
[googlemaps https://www.google.com/maps/d/embed?mid=1Klsy8DAI-eNKT91I-UA5nrMfB58&w=640&h=480]
KTLA's Briana Epps and Feven Kiflegiorgis contributed to this story.