This is an archived article and the information in the article may be outdated. Please look at the time stamp on the story to see when it was last updated.
An investigation is underway after the body of a Los Angeles School Police Department officer was discovered on the grounds of a Hollywood Hills elementary school late Sunday.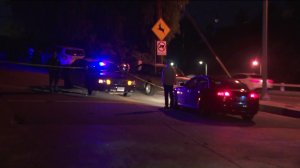 The discovery was made about 4:15 p.m. at Valley View Elementary School, 6921 Woodrow Wilson Drive, school police officials said.
Fellow school police officers first found the body, described only as male, Los Angeles Police Department Lt. Chris Ramirez said.
No information regarding the circumstances of the death were released, but police said there was not believed to be any threat to the nearby community.
Police declined to discuss any possible injuries or trauma on the body.
"The cause of death will be determined by the coroner's office," the lieutenant said.
It was not clear whether the officer, initially described only as male, was on duty.
Ramirez said the investigation was not expected to impact school operations.
No further details were available.