This is an archived article and the information in the article may be outdated. Please look at the time stamp on the story to see when it was last updated.
Investigators are asking the public's help in tracking down the son of a couple who died in a suspected arson fire at their Diamond Bar home.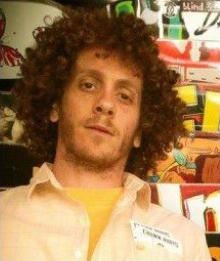 Ryan Michael Venti, 33, hasn't been seen since the bodies of his parents, John and Linda Venti, were discovered about 5 a.m. Friday in their burning home all three shared in the 3600 block of Crooked Creek Drive, according to the Los Angeles County Sheriff's Department.
"Ryan Venti is wanted for questioning regarding what occurred at the location," sheriff's officials said in a bulletin.
The fire was believed to have been set intentionally, officials said. The deaths were being investigated as a homicide case.
Investigators stopped short of labeling Ryan Venti a suspect in the death of his 75-year-old father and 66-year-old mother. But detectives urgently want to speak with him.
"Due to the suspicious nature of the fire and the fact that Ryan Venti appears to missing and has not returned to the house, detectives are actively looking for him so that they can speak with him in an attempt at determining what occurred at the residence," Deputy Joanna Warren of the Sheriff's Information Bureau said in a written statement.
The victim's bodies were found badly burned in a ground-floor bedroom of the home, officials said. It has not been determined whether they died in the fire, or were already dead when it ignited. A dog also died in the fire.
Neighbors told KTLA they feared the suspect might have mental health issues and still pose a danger.
Ryan Venti is described as white, standing 6 feet tall and weighing 180 pounds, with reddish-brown hair and blue eyes.
Anyone with information was asked to contact the Sheriff's Homicide Bureau at 323-890-5500. Tips may also be submitted anonymously to L.A. Regional Crime Stoppers at 800-222-8477.