This is an archived article and the information in the article may be outdated. Please look at the time stamp on the story to see when it was last updated.
ANAHEIM, Calif. (KTLA) — A Disney employee is in the hospital after being struck by the vehicle of an undercover cop as she was leaving the park.
The accident happened aroun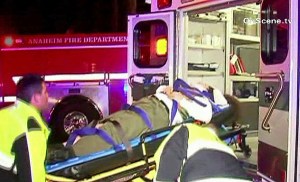 d 10 p.m. Monday at Disneyland Drive and Magic Way.
According to police, the undercover officer was making a U-turn when he hit the employee.
Witnesses said the employee was crossing the street legally before being thrown a few feet from the intersection.
"We were just trying to go back to the car from after a day at Disneyland," witness Alicia Handy recalled.
"The light turned, we were going to cross the street — completely legal. And I guess the guy in the turn lane just didn't see her."
The woman suffered critical injuries and was being treated at a local hospital.
Police are investigating why the undercover officer was patrolling the area at the time of the accident.