This is an archived article and the information in the article may be outdated. Please look at the time stamp on the story to see when it was last updated.
A Walt Disney Studios employee was fatally struck by a vehicle while walking to work in Burbank on Thursday morning, and the driver was arrested on suspicion of vehicular manslaughter while intoxicated.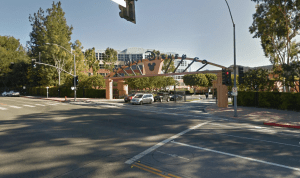 Burbank police said investigators believe alcohol, drugs or a combination of both was an apparent factor in the crash that killed 64-year-old Michelle Landes.
She was crossing in a marked crosswalk at Alameda Avenue and Lincoln Street when she was hit about 9:10 a.m., according to a Burbank Police Department news release.
After the vehicle hit her, it struck three other vehicles, police said. Landes, of Los Angeles, was pronounced dead at a hospital.
The driver, 37-year-old Stergios Economos, was arrested and is being held on $100,000 bail. An unidentified passenger in his vehicle was detained but released.
Disney CEO Bob Iger notified employees of the company via email, the Burbank Leader reported.
"We lost a valued Cast Member this morning in a tragic accident outside the Alameda Gate of the Disney lot," Iger wrote, according to the Leader. "A number of other Cast Members witnessed the tragedy, and are understandably very shaken by the experience."
The crash occurred very close to the Alameda Avenue entrance to the Disney lot in Burbank.
Los Angeles County inmate records show multiple arrests by Burbank police within the past two years for a man matching Economos' name and age.
Burbank police initially described Landes as 54, but that figure was corrected by police on Sept. 12.