This is an archived article and the information in the article may be outdated. Please look at the time stamp on the story to see when it was last updated.
Lifeguards fought against pounding surf Friday morning to rescue a distressed swimmer at the famous Wedge in Newport Beach.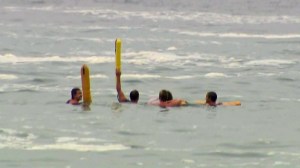 The rescue was broadcast live as four lifeguards took the swimmer further out into the ocean instead of trying to swim through the 10 foot surf and strong rip currents between them and the shore.
Once in the deeper waters, lifeguards waved their buoys to signal a rescue boat, which quickly arrived to pick them up.
There was no immediate word on the condition of the swimmer.
The rescue was similar to an incident at the Wedge last week, in which 25 foot waves were crashing down on lifeguards, who eventually called in a boat to assist them and the person they were rescuing.
The strong rip currents and large surf caused by Hurricane Norbert, which was spinning off the coast of Baja California, were expected to continue through the weekend.
Inexperienced swimmers were asked to avoid the dangerous waters, with the largest waves and strongest rip currents expected on Sunday and Monday, according to the National Weather Service.
More video: