This is an archived article and the information in the article may be outdated. Please look at the time stamp on the story to see when it was last updated.
Los Angeles County prosecutors said Tuesday they will not bring criminal charges against the two Los Angeles Police officers who shot and killed Ezell Ford during a clash near his South L.A. home in 2014.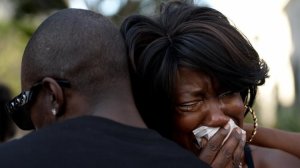 Ford, who had been diagnosed with schizophrenia and bipolar disorder, was shot and killed by LAPD officers Sharlton Wampler and Antonio Villegas on Aug. 11, 2014, and his death has become a cornerstone of tensions between local activists and the LAPD. Ford died two days after a police officer shot and killed Michael Brown in Ferguson, Mo., drawing the shooting into a larger national conversation about police interactions with minority communities.
Wampler and Villegas, who were both assigned to an anti-gang unit in the LAPD's Newton Division, stopped Ford while he was walking down a street near his home.
Wampler grabbed Ford, according to investigators, sparking a physical confrontation. LAPD officials have publicly said Ford then forced Wampler to the ground and grabbed at his gun, prompting both officers to open fire.
Click here to read the full story on LATimes.com.