This is an archived article and the information in the article may be outdated. Please look at the time stamp on the story to see when it was last updated.
One day after nine people were rescued off the coast of Palos Verdes, divers were back in the water Wednesday searching for a missing swimmer.
Rescuers received a call around 2:50 p.m. regarding two people trapped on the rocks at Inspiration Point, according to Los Angeles County Fire officials.
The Coast Guard later confirmed that there was only one person in distress.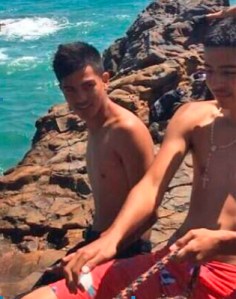 A group of teenagers from Jordan High School identified the missing swimmer as their friend, 18-year-old Joseph Sanchez.
Sanchez and his north Long Beach friends had gone to Inspiration Point on Wednesday to cliff jump, just like they did every week.
But this time, when Sanchez jumped into the water he was knocked into the rocks by the high surf and was swept into a cave, his friend Toogee Zepeda said.
Despite the dangerous seas, Zepeda jumped in to try to help Sanchez who he described as a poor swimmer.
"That's my friend, what else was I supposed to do, just watch," Zepeda said.
Zepeda said the two were being pounded by the waves.
"Every time we had air, another wave kept piling on top of us." Zepeda said.
Zepeda said it was too much and he knew he had to go for help, so he left Sanchez.
"I told him … 'hold on to this rock. Whatever you do don't let go of this rock,'" he told Sanchez as he swam away.
For a time, Sanchez appeared to be holding his own against the waves.
"I kept looking back and he kept holding on to that rock," Zepeda said.
But it would be the last time Zepeda saw his friend. By the time lifeguards arrived the teenager had disappeared beneath the waves.
Divers from the fire department, Coast Guard and L.A. County Sheriff's Department launched an all-out search for the boy throughout the day.
#OceanIC Multi Agency Dive Operation and Helicopter search Underway OceanIC @LACoFireAirOps pic.twitter.com/on9zcmE15T"

— LACoFD (@LACOFD) July 9, 2014
But, as the hours passed without any sign of Sanchez, the rescue mission turned into a recovery effort.
The sheriff's department was set to resume the search at daybreak on Thursday.
Sanchez disappeared in the same general area where a 19 year-old swimmer was rescued by two good Samaritans on Sunday.
The area near Abalone Cove and Sacred Cove was popular with visitors because of the many tide pools.
But violent seas were also making the area dangerous in recent days.