This is an archived article and the information in the article may be outdated. Please look at the time stamp on the story to see when it was last updated.
A family of five, two young students, a crew member and a marine biologist were among 34 people presumed dead after a dive boat caught fire and sank near the Channel Islands early Monday.
As of Tuesday, authorities have yet to release their names to the public.
Many of them were from the Bay Area, Santa Barbara County Sheriff Bill Brown said at a news conference. Only 20 bodies, 11 female and nine male, have been recovered, Brown said.
Investigators have not connected with the families of four of the victims, according to authorities.
At least 17 have been identified by their loved ones.
A 6th crew member
A family member near a growing makeshift memorial on the Santa Barbara coast on Tuesday said she has not heard from her 26-year-old sister, who worked on the crew at the boat. The other five crew members were on the top deck and managed to jump off the vessel and make it to safety, officials said. They were the only ones who survived the incident.
"She was an amazing person," said Olivia, who declined to provide her sister's name. "She had the biggest heart. She was my role model, my big sister, she was everything to me, and she's just gone now."
The victim's mother, Cherie McDonough, came from Cincinnati, Ohio to Santa Barbara Harbor. She identified the victim as 25-year-old Allie Kurtz.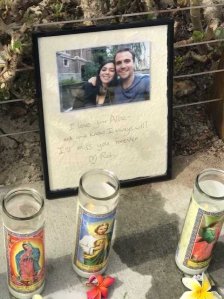 McDonough told CNN her daughter worked at Paramount Pictures for many years but "wanted to follow her dreams of the ocean, the sea, diving."
"She loved it here," her mother said. "She loved the boat. She loved diving … she could do anything she wanted."
A GoFundMe page  said Kurtz was the missing crew member.
"The only sense of comfort right now is knowing she passed doing what she loved,"  said a message from her father posted on the website. "I will always love you and will miss you forever! You became the pirate you wanted to be, now sail away."
A family of five from Northern California
Dominic Selga told KTLA sister station KTXL in Sacramento that his mother, Fernisa Sison; his stepfather, Michael Quitasol; and three of his four stepsisters — Evan, Nicole and Angela Quitasol — were on board the Conception.
Selga said their whole family was scuba-certified and often took trips together, including an annual voyage to the Channel Islands on the Conception. It was something that brought the blended family together, he said.
"I would never think that that would happen, ever like on a boat that was so well known," Selga said.
Mike and Fernisa previously worked as nurses at St. Joseph's Medical Center in Stockton, but the couple recently began working for Kaiser Permanente at hospitals in Stockton, Modesto and Manteca.
Mike's daughter Evan had followed in their footsteps and worked at St. Joseph's, according to Selga.
The St. Joseph's Medical Center confirmed one of the victims was a nurse there and two were former staff members.
The three sisters had all joined the diving expedition in celebration of their father's birthday, according to the Los Angeles Times. They were all bridesmaids at the wedding of their sister, Evita, just two weeks ago, their stepfather Chris Rosas told the Times.
The newspaper described Angela as a middle school science teacher in Stockton and Nicole as a bartender in Coronado.
"We held a prayer gathering in our Chapel this morning to offer comfort and support to our hospital family," St. Joseph's Medical Center said in a statement to KTLA. "Our hearts go out to all the families and loved ones of those on board the Conception."
Diving company owner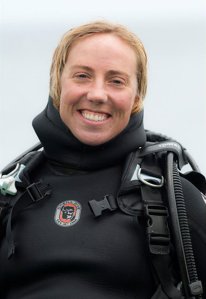 Brett Harmeling told the Los Angeles Times that his sister, 41-year-old Kristy Finstad, was on the boat to help lead an expedition for his family's diving company.
In a Facebook post on Tuesday morning, Harmeling expressed gratitude for the support his family has received.
"Thank You ALL for your unconditional love and support during this incredibly tragic time… No final word on my sister Kristy; however, it is likely she has transitioned to be with the good Lord," he wrote.
The company, Worldwide Diving Adventures, chartered the Conception. The vessel was on a Labor Day trip from Santa Barbara when it ignited while anchored off Platt Harbor at Santa Cruz Island.
According to the event page on the company's website, Finstad was set to bring her microscope to the trip so she could show divers marine life near the northern Channel Islands.
"There's nothing better than seeing divers' dream vacations come true," says her biography page on the site.
Finstad started going on dives in the Channel Islands as a toddler, according to the page. She later earned a degree in aquatic biology and became part of a diving research team for the Australian Institute of Marine Science. She wrote a guidebook for the California Coastal Commission, the website says, and worked for the city of Santa Cruz.
"My mission is to inspire appreciation for our underwater world," her biography page says. "I feel incredibly fortunate to be in the service of helping people invest in experiences of a lifetime."
Two young students and one of the students' parents
The Pacific Collegiate School, a charter school that serves 7th- to 12th-graders in Santa Cruz, said two of its students and one of the students' parents were also aboard the Conception, Monterey Bay-area station KSBW reported.
"While this was not a school sponsored trip, our hearts and thoughts are with the families of the victims and those yet missing, particularly those of our students and parents on board," the school said in a statement.
High school physics teacher with his child
Scott Chan, a physics teacher at American High School in Fremont, also was on board with his daughter, said Brian Killgore, a spokesman for the Fremont Unified School District.
The district said in a statement that Chan taught Advance Placement physics classes for the past three years at the school and was well liked.
"His students knew him to be an innovative and inspiring teacher who developed a passion for physics among his students," the district said in a statement. "His loss is a tremendous tragedy for our school district."
Chan said on his LinkedIn page that his teaching was fed by his "passion and wealth of real-world experience from research laboratories, and the electronics, computer, and high-performance automotive industries."
Couple from Arizona
Patricia Beitzinger and Neal Baltz were identified by Phoenix, Arizona station KNXV as a couple presumed dead after taking part in the Labor Day weekend diving expedition.
"They went to heaven doing something they loved together," John Baltz, Neal's father, told the TV station.
The boat's cook
Mike Kohls worked as a galley cook and deckhand aboard the Conception, his brother told CNN.
Kohls had a daughter and was a lifelong surfer. At the time the fire broke out, around 4 a.m., he was usually found making breakfast for the ship's passengers, his brother said.
Two diving enthusiasts from Santa Monica
In a Facebook post, scuba diving company Malibu Divers identified two of the victims as Charles McIlvain and Marybeth Guiney of Santa Monica.
Several people responded with tributes to the pair.
"Our dive community lost some great people!" Penny Sipes said.
McIlvain and Guiney lived in the same condominium complex in Santa Monica, the City News Service reported.