This is an archived article and the information in the article may be outdated. Please look at the time stamp on the story to see when it was last updated.
The man suspected of being the Golden State Killer was arrested after investigators compared DNA collected from crime scenes to genetic information on genealogy websites, KTLA sister station KTXL reported Thursday.
The DNA matched a relative of 72-year-old Joseph James DeAngelo, a source close to the investigation told the Sacramento television station. From there, investigators zeroed in on DeAngelo, who lived on a quiet residential street in Citrus Heights, a suburb northeast of Sacramento.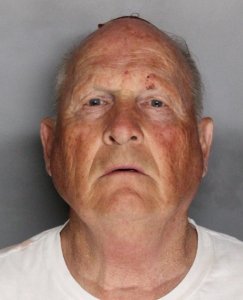 Detectives were able to match the DNA with a sample DeAngelo "discarded," Sacramento County Sheriff Scott Jones said Wednesday, declining to go into detail about the sample.
Details of what led investigators to the suspect are now emerging, a day after officials confirmed the revelation that investigators believe they have finally found the man who committed a series of gruesome and violent crimes that gripped California in the 1970s and 1980s.
The Sacramento Bee was the first media outlet to report that the DNA from genealogy websites was used to track down DeAngelo, confirming the information with the Sacramento County District Attorney's Office.
Chief Deputy DA Steve Grippi told the newspaper that investigators used DNA obtained from one of the crime scenes and compared it to genetic profiles available online through genealogical websites in which people submit samples in an effort to learn more about their ancestors.
Many such websites exist, and it was not immediately clear which sites or how many were utilized.
Four companies contacted by CNN denied having any connection to the case. Ancestry, Vitagene, MyHeritage and 23andMe said they didn't provide customer information to law enforcement officials.
A spokesperson for Ancestry told KTLA it "advocates for its members' privacy and will not share information with law enforcement unless compelled to by valid legal process," while 23andMe said its policy is "to resist law enforcement inquiries."
The nature of the investigation raises questions about the privacy of consumer-grade DNA testing, which has increased in popularity in recent years. Two women who work with DNA Doe Project, a nonprofit that seeks to identify Jane and John Does, said consumers need to be aware of the benefits and risks associated with such products before allowing their sensitive data to be collective.
"There are a lot of us that have our relatives and friends tested, and now the discussion is we should be aware to inform these people of what might happen when their DNA is out there," said Colleen Fitzpatrick, a co-founder of the organization.
People who use the kits may not even realize has access to their information, especially if they don't read the fine print, said Margaret Press, who co-founded the nonprofit with Fitzpatrick.
"We all need to assume wherever we test, wherever we move our data to, someone somewhere will ultimately be able to get that data," she told KTLA. "You can agree to be part of that great experience, essentially, where research is being done using our DNA, which is supposedly anonymized, to develop new drugs in the treatment of disease."
It took investigators a long period of time to piece together the clues in the Golden State Killer case, as they first matched samples collected from crime scenes to DNA from various online family trees, Grippi told the Bee. From there, they narrowed it down, following clues to individuals to see if it led to any potential suspects in the decades-old case.
The meticulous investigation finally appeared to pay off last Thursday, when they identified DeAngelo as a possible suspect, Grippi said. DeAngelo fell into the right age range and had resided in the areas where the crimes took place, the Grippi told the Bee.
After DNA results from original crime scene samples positively matched DeAngelo, authorities gathered a second one to bolster their case. By Monday evening, after the results came back, officials were preparing to make an arrest, according to the Bee.
In a brief emailed statement, Grippi confirmed the Bee's reporting to a number of outlets, including KTLA, but declined to provide further details.
"We can confirm that what Sam Stanton from the Bee reported today is accurate. It's an ongoing investigation.  We have given you as much information as we can at this time.  No further information on this subject will be provided," Grippi said in the statement sent out by the DA's office.
DeAngelo was arrested outside his home on Tuesday afternoon, but it wasn't formally announced until the following day. KTXL first reported the arrest on Tuesday night.
The suspected Golden State Killer is alleged to have slain 12 people and committed at least 50 rapes in 10 counties across Northern and Southern California between 1976 and 1986.
Some of the crimes occurred while DeAngelo worked as an officer in the Auburn Police Department. He was fired from that job in 1979 after shoplifting from a Sacramento drugstore, according to authorities.
DeAngelo has been charged in connection with several killings and rapes in several counties, including Sacramento, Orange and Ventura.
He is expected to make his first court appearance in Sacramento Friday.