This is an archived article and the information in the article may be outdated. Please look at the time stamp on the story to see when it was last updated.
Los Angeles Dodgers infielder Chase Utley's appeal of his two-game suspension over an "illegal" slide likely won't be heard before the third game of the National League division series against the New York Mets on Monday, the Los Angeles Times reported.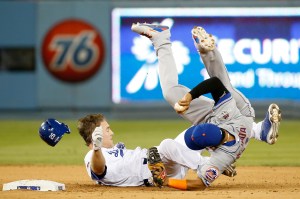 It is also "unlikely" the hearing will be held Tuesday, according to the Times, which cited an unidentified source familiar with the matter.
If a hearing on the matter doesn't take place, Utley would be eligible to play in Game 3.
Utley was initially suspended for games 3 and 4 of the playoff series as a result of an alleged takeout slide, which occurred in the bottom of the seventh inning in Game 2. The collision left Mets shortstop Ruben Tejada with a broken leg.
The incident caused an uproar among fans, and was later deemed illegal by the commissioner's office,
Joe Torre, the chief baseball officer of Major League Baseball, announced Utley's suspension in a ruling issued Sunday evening.
"The determination of whether a baserunner has intentionally interfered with a player attempting to turn a double play is left to the judgment of the Umpire on the field, and that judgment call is not subject to review," Torre, the Dodgers' former manager, said in the statement. "However, after thoroughly reviewing the play from all conceivable angles, I have concluded that Mr. Utley's action warrants discipline."
Adding that he "sincerely" believed Utley did not intend to injure Tejada, Torre continued that the slide violated an MLB rule that is "designed to protect fielders from precisely this type of rolling block that occurs away from the base."
But Joel Wolfe, Utley's agent, disagreed with Torre's assessment, calling the suspension "outrageous." He said the play was "legal" and that his client was appealing the two-game ban, the Times reported.
"A two-game suspension for a legal baseball play is outrageous and completely unacceptable," Wolfe said in a statement obtained by the Times. "Chase did what all players are taught to do in this situation — break up the double play. We routinely see plays at second base similar to this one that have not resulted in suspensions."
Wolfe added that his client issued an apology over the incident through Mets captain David Wright.
Game Three is scheduled to start around 5:30 p.m. PT at Citi Field in New York. The series is tied at one game apiece.