This is an archived article and the information in the article may be outdated. Please look at the time stamp on the story to see when it was last updated.
Yu Darvish stepped outside the batter's box as his eyes registered the location of the last pitch. It was a fastball from Cubs reliever Carl Edwards Jr., like the three pitches before it, and it was not a strike, like the three before it. Darvish roared and chucked his bat into the grass. The trajectory of the lumber was not majestic — it felt more visceral, the stunned reaction of Darvish seeing fortune smile on the Dodgers.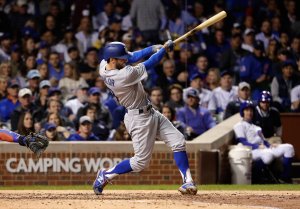 In a postseason packed with bat flips, this one in the sixth inning of a 6-1 victory over the Cubs was the most improbable. With two outs and the bases loaded in Game 3 of the National League Championship Series, Dodgers manager Dave Roberts allowed Darvish to bat for himself, even after sending Curtis Granderson to the on-deck circle as a decoy.
The move looked puzzling in the moment. In hindsight, it served as another chapter in this idyllic postseason, one in which the Dodgers own a commanding 3-0 series lead, and reside one victory away from their first World Series since 1988. Roberts manages a club in an enviable position.
Roberts operates with urgency in the playoffs, willing to insert pitchers and pinch-hitters with abandon in search of exploiting any edge. Here he opted for restraint, hoping to extend Darvish deeper into the game. As his team stormed to their sixth consecutive playoff victory, a franchise record, Roberts received the best of both worlds: Darvish took a walk to extend a two-run lead to three, then lasted 6 1/3 innings without permitting another run.
Read the full story on LATimes.com.