This is an archived article and the information in the article may be outdated. Please look at the time stamp on the story to see when it was last updated.
Let's start with a bold prediction. Hope springs eternal, after all, and it is still only March. So here goes: The Dodgers will score a run in 2018. They will probably win a game, too, but let's start with something simple.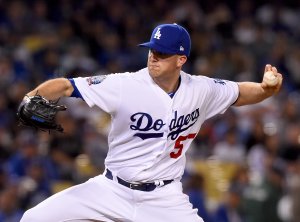 At some point, this offense assembled with essentially the same high-powered components from last year's 104-win group will cobble together the necessary combination of hits or walks or errors required to bring a runner home. You can bank on that. It will happen. It just hasn't happened yet.
On Friday evening at Dodger Stadium, for the second time in as many game, the Dodgers experienced a 1-0 defeat to the San Francisco Giants. It might as well have been a carbon copy. They wasted a sterling effort from a starting pitcher. They looked baffled against the opposing starter. Giants second baseman Joe Panik provided the only run, this time with a solo homer off closer Kenley Jansen.
A day after homering off Clayton Kershaw, Panik took Jansen deep to start the ninth inning. It was only the second hit produced by the Giants all evening. Alex Wood spun eight marvelous innings, walking none and permitting only an infield single. His effort was not rewarded: The Dodgers responded with only one hit in seven innings against San Francisco starter Johnny Cueto. Save for a single by Chris Taylor, Cueto's line was spotless.
Read the full story on LATimes.com.