This is an archived article and the information in the article may be outdated. Please look at the time stamp on the story to see when it was last updated.
Disney calls them "ear hats." You can buy one in pink or lime, or topped with a tiara or bow tie.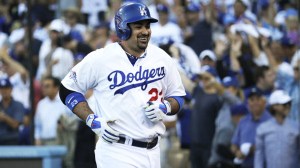 But the traditional hat is all-black, adorned with nothing but the ears that Adrian Gonzalez mimicked the other day. That is only fitting, because the bad guys wear the black hats.
The Dodgers ought to go all in on their new image as fun-loving, free-spending bad boys. Embrace it. Own it. This is the second coming of the Big Blue Wrecking Crew, this one wrecking old-fashioned decorum on the quest for October glory.
The Dodgers field a team with such distinguished players as Gonzalez, Clayton Kershaw and Hanley Ramirez, but mercurial rookie Yasiel Puig leads in jersey sales. Puig hits the ball a mile, throws the ball almost as far, puts hands on hips to stare at umpires, points to the sky and gestures in celebration whenever he gets a hit.
Click here to read the full story on LATimes.com.