This is an archived article and the information in the article may be outdated. Please look at the time stamp on the story to see when it was last updated.
A chemically burned dog was recovering at a Palmdale animal hospital Friday after someone likely poured acid on his back, according to a rescue worker.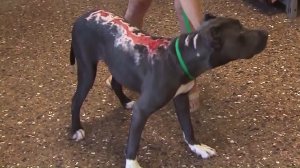 Max, a two-year-old cane corso, was initially taken to a shelter in San Bernardino on Aug. 23 after being found with acid burns along his back and down his sides, said Cheryl Holbrook with Doggy Smiles Rescue in Lancaster.
After being notified about Max, the rescue brought him in last week and then took him to Pets R Us Veterinary Hospital in Palmdale to help with his long road to recovery.
"All of the wounds are really red and raw. A really deep, deep burn," said Tamara Leary with Pets R Us.
Max is the fourth chemical burn dog taken in by the rescue since July of 2015, said Holbrook, who believes someone is purposely pouring acid on the animals.
"It nearly ate off their skin ... It's definitely intentional," Holbrook said.
The rescue contacted Max's owner after finding a micro chip, but the owner said they didn't want the dog back, Holbrook said.
The owner told Holbrook they had given the dog away a while ago, but didn't remember who took the dog or when.
"They depend on people to take car of them and to love them. You know they're like a child ... Somebody's intentionally doing this and it's very sick," Holbrook said.
Max was expected to spend about two months recovering at the animal hospital, Holbrook said.
A GoFundMe account was set up to help with Max' medical expenses.
Anyone interested in adopting Max following his recovery can get more information at doggysmiles.org.