This is an archived article and the information in the article may be outdated. Please look at the time stamp on the story to see when it was last updated.
VAN NUYS, Calif. (KTLA) — Police were searching on Thursday for the person who tied a firecracker to a dog's leg, leaving him badly burned and barely able to walk.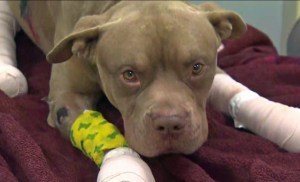 The 3-year-old American Staffordshire terrier was found abandoned on a street in North Hollywood on July 5.
The dog, nicknamed "Indy," received severe burns on his stomach, legs and paws.
"There were fireworks strapped to him and they lit them on fire," said Dr. Daniel Slaton, of the West Village Animal Hospital.
"That's the burn mark patterns through the back of the legs," Slaton said. "As he was walking, it was burning the back of his feet."
Slaton has treated many animals with July 4 injuries, but never this extreme, he said.
Shelter volunteer Allison Polumbus described the attack as deliberate, vicious and cruel.
"It's really hard to see an animal in this kind of pain," Polumbus said.
"We saw him without the bandages. It's horrific, it's gory, and you can't even imagine the pain he's in," Polumbus said.
Indy still has a long recovery ahead of him, including additional surgeries, according to Slaton.
A $1,000 reward was being offering in the case.
A fund was also set up to help cover medical costs. If you want to contribute, contribute, go to www.startrescue.org.
You can also "follow" Indy on Facebook at https://www.facebook.com/photo.php?fb.