This is an archived article and the information in the article may be outdated. Please look at the time stamp on the story to see when it was last updated.
A golden retriever named Henry was recovering Wednesday after undergoing surgery to remove a 46-pound tumor on his side less than a month after he was found wandering alone on the sand in Newport Beach, apparently after having been dumped.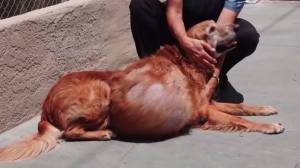 Henry was discovered at the beach on May 12,  the huge mass on his right side.
"We got a call that there was a dog that was dumped on the beach. So when we went,  we got him, and we we went, 'oh my gosh,'" said Valerie Schomburg, a Newport Beach Animal Control supervisor.
The huge growth was pushing on his right leg, which kept him from doing  normal dog things, such as lifting his leg to go to the bathroom, she said.
After rescuing the golden retriever, animal control officers started asking around for a veterinarian who could help.
"Most vets that we've asked, and have been involved in his story, have never seen it that big," Schomburg said of the 46-pound tumor.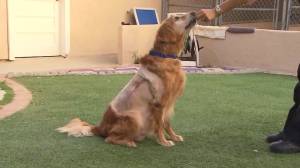 Despite possible complications involved with removing a growth of that size, vets decided Henry — who is believed to be 8 years old — was strong enough to undergo surgery.
"He has too much love, and life to live, that we wanted to give him a chance," Schomburg said.
Henry's tumor was successfully removed last Thursday, and he was on the road to recovery.
"You can't keep him down," the animal control supervisor said.
Officials don't know how long the dog was in that condition, but they do believe he was someone's pet at one time. However, it still has not yet been determined if this is a case of animal cruelty or neglect.
Investigators are currently following up on leads.
"Just very shocking that it got that big, and that someone wouldn't do the right thing," said Schomburg. "Whoever did this to Henry might have to answer it."
Henry's surgery, which cost thousands of dollars, was covered by donations. He isn't in the clear yet, as veterinarians are awaiting biopsy results to see if the tumor was cancerous.
If all goes well, Henry should be up for adoption in a few weeks.