This is an archived article and the information in the article may be outdated. Please look at the time stamp on the story to see when it was last updated.
Pet owners in Los Angeles County are being warned about the arrival of canine influenza in the area after several infected dogs were imported from Asia.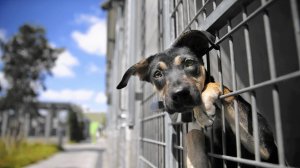 The highly contagious virus — H3N2 — causes dogs to have a persistent cough that can last 10 to 21 days. In rare cases, cats can also be infected.
Sick dogs can also have fever, nasal discharge, lethargy and anorexia, the Los Angeles Department of Animal Services said in a notice sent out Monday. The city said an animal rescue group imported multiple sick dogs from Asia, prompting the outbreak.
The virus was identified in March after the imported dogs were seen by a veterinarian locally, according to the Los Angeles County Department of Public Health.
Thirty-four dogs had been sickened as of April 7, the county said. All of the dogs were under quarantine or isolation in 10 separate locations around the county. Most have recovered.
Meanwhile, local veterinarians have been warning pet owners, saying specifically that one dog imported from China first tested positive for the virus in March.
The canine flu was first reported in the U.S. in 2015, when more than 1,000 dogs in the Chicago area were sickened. The first instance of the H3N2 flu worldwide was in South Korea in 2006.
Dogs that frequently interact with other dogs should be vaccinated against the flu, the county recommends. The vaccine became available in 2015, after cases of the flu were detected earlier in the year in Orange and L.A. counties.
If your dog gets sick, keep it away from other pets. More information is available from the county here.
Canine influenza cannot make humans sick, the county health department said.