This is an archived article and the information in the article may be outdated. Please look at the time stamp on the story to see when it was last updated.
A La Cañada Flintridge neighborhood is on edge after the latest in a series of dog poisonings, this time reportedly from a meatball laced with a toxic pesticide.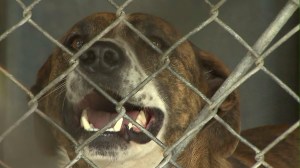 Dan Horwath told KCBS-TV on Tuesday that his 7-year-old dog June nearly died a few weeks ago after ingesting a meatball laced with what a veterinarian later determined to be strychnine, a pesticide that can be lethal.
"She was just lethargic, confused, tripping," he said.
Horwath said he found two other poisoned meatballs on his property that he said, if consumed, likely would have killed June. The incident was reported at about 7:30 a.m., Aug. 25, in the 4100 block of Hampstead Road, and was listed in a Los Angeles County sheriff's log as "willful poisoning of an animal," the La Cañada Valley Sun reported.
Click here to read the full story on LATimes.com.