This is an archived article and the information in the article may be outdated. Please look at the time stamp on the story to see when it was last updated.
The mayor of affluent San Marino has resigned his largely ceremonial role as head of the City Council in the wake of a scandal over his having tossed dog poop onto a neighbor's property.
Dennis Kneier announced Tuesday that he would step down as mayor immediately, but would remain on the City Council until his term ends in November 2015, the city stated in a news release.
Kneier was caught on surveillance video tossing a bag of dog excrement onto a neighbor's property during a June 7 walk home from Lacy Park with his wife.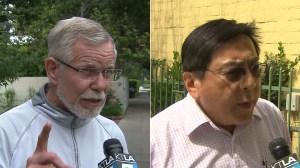 He apologized to the neighbor, Philip Lao, who said he was talking to an attorney about the matter. Police investigated.
The surveillance video was released by Lao to news media and it was widely viewed.
In a letter to his fellow City Council members announcing his resignation, Kneier noted the incident was "well known."
"I had a lapse of judgment and discarded dog waste on a neighbor's walkway. It was insensitive, disrespectful and wrong," Kneier wrote.
He said the events continue to embarrass him and the city.
Vice-Mayor Eugene Sun will take over mayoral duties, Kneier said. The council will choose a new mayor at its June 27 council meeting.
About 100 people attended the city's June 11 council meeting to discuss the controversy, according to the city's news release.
"This has been a challenging few days for our city and we're hopeful that with Mr. Kneier's decision, and with his public and private expressions of regret for the incident, we can move forward,'' Sun said in the release.
San Marino is a general law city in California, which means its mayor is not elected for that role by the public but is chosen from within and by the five members of the City Council.