This is an archived article and the information in the article may be outdated. Please look at the time stamp on the story to see when it was last updated.
A day after being struck by a van during a wild police chase in South Los Angeles, the maltese-mix named Gordo was recovering after undergoing surgery that was deemed a success.
The canine was walking on a residential street Wednesday night when he was hit by the vehicle, which had spun out and lost two tires moments earlier when a police cruiser performed a PIT maneuver.
His owner, Santos Son, said Gordo ran out of the home when he opened the door after hearing police sirens in the area.
After being struck, Gordo was rushed to ACCESS Specialty Animal Hospital in Culver City, where he remained hospitalized Thursday night.
"He's been incredible. He's handling the injury better than I would," Dr. Erich Stumpp said. "He's been very cooperative and … very gentle with the technicians despite all these injuries."
The animal suffered fractures to his right hip and femur, as well as a deep muscle laceration on the back of one of his legs.
Veterinarians discussed amputating the leg, but Son elected to try and save it.
Thanks to donations that poured in from concerned people, the veterinarians were able to perform a more costly repair surgery.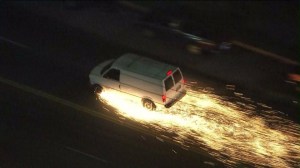 The dog was doing "wonderfully" after his surgery, according to Dr. Annie Lo, who described him as being a "rockstar" under anesthesia.
Gordo will continue to be monitored in the hospital. Doctors said they were concerned about possible infections and how well the dog would be able to walk.
Lo said they'd likely know more about his condition within a couple of days. As part of the dog's recovery, he would also need physical therapy.
Medical expenses for Gordo's care could run more than $6,000.
Callers to the animal hospital, many of whom were spurred by the hashtag #savethewhitedog on social media, have pledged thousands of dollars in donations to help pay for Gordo's medical care, officials said.
"There has been generous, generous donations from people all around the country everywhere, and hopefully his bill has been covered so far," Lo said. "But like I said again, we're not quite out of the woods entirely."
Son said he was very thankful, and that without the donations, the family wouldn't be able to afford to pay for Gordo's care.
The incident that led to the dog's injury began when deputies ran the license plate of the van, which had been reported stolen, and attempted a traffic stop, according to the Los Angeles County Sheriff's Department. The driver refused to pull over, and the pursuit ensued, officials said.
The California Highway Patrol later took over the chase and performed multiple PIT maneuvers, one of which sent the vehicle into a spin and caused it to blow two left tires. The rims emitted a shower of sparks as the driver continued on, before a final PIT maneuver finally brought the van to a stop.
The driver and passenger were then taken into custody. They were later identified as Yovany Ervin Rodriguez, 21, of Los Angeles, and Gwendi Yarubi Valenton, 26, of Bakersfield, respectively, the CHP said.
Both were booked into the sheriff's Inmate Reception Center in Los Angeles on charges of unlawful taking of a vehicle.
 KTLA's John A. Moreno and Tracy Bloom contributed to this report.
More video: