This is an archived article and the information in the article may be outdated. Please look at the time stamp on the story to see when it was last updated.
San Diego Humane Society officials have asked for help locating the person or people responsible for wrapping chicken wire around a small dog's neck recently, leaving the dog with wounds nearly to the bone.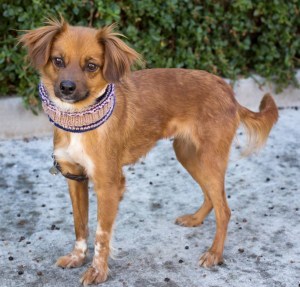 Melody, a "sweet" 4-year-old spaniel, was brought to the Humane Society last week in Oceanside suffering from severe lacerations around her neck, according to a Facebook post from the organization on Wednesday.
"The way the chicken wire was tied indicates that this was an intentional act,'' Steve MacKinnon, chief of humane law enforcement for the San Diego Humane Society, told KTLA sister station KSWB. "The injuries she has suffered cut into her flesh all the way to the bone."
"She's very lucky to be alive," MacKinnon added.
Melody underwent successful reconstructive surgery to repair the deep cuts, the post stated. She has been given a "positive prognosis" for her recovery.
Authorities investigating the incident hope the public can provide any information that will lead to an arrest. To that end, San Diego Crime Stoppers has offered a reward of up to $1,000.
"We're asking the community to please report any information or possible leads so we can find the person responsible, or Melody's previous owners,'' MacKinnon told the TV station.
Anyone with knowledge of the case was asked to contact the San Diego Humane Society at 619-243-3466. Additionally, anonymous tips can be reported through the website www.sdcrimestoppers.com, or by calling 888-580-8477.