This is an archived article and the information in the article may be outdated. Please look at the time stamp on the story to see when it was last updated.
A San Dimas man is being hailed as a hero after he pulled an unconscious woman from a burning car wreck while out walking his dog on Thursday, authorities said.
The solo-car crash took place about 6 p.m. as Sebastian Picardi was walking  down San Dimas Canyon Road, near Caballo Ranch Road, the Los Angeles County Sheriff's Department said in a written statement.
"He witnessed a 2015 Mustang crash into a concrete barrier and steel guard rail," the statement said. "As Sebastian secured his dog, he saw the car was on fire."
The good Samaritan yelled for another bystander to call 911 and rushed toward the wreck, officials said. He found a 63-year-old woman who had been knocked unconscious.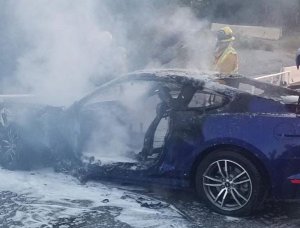 After managing to wake the woman and unbuckle her seat belt, she maintained a grip on the steering wheel before Picardi persuaded her to let go and pulled her away from the burning Mustang.
Flames engulfed the car moments later, sheriff's officials said.
Paramedics took the woman to a hospital, where she was listed in stable condition, authorities said. Excessive speed was believed to be the cause of the crash.
The first deputy to arrive on scene said he has no doubt Picardi saved the woman's life, officials said. The flames were so intense he couldn't get close to the burning car.
"We are grateful to Mr. Picardi for his courage and quick action," the Sheriff's Department statement said.