This is an archived article and the information in the article may be outdated. Please look at the time stamp on the story to see when it was last updated.
A pair of dogs who rode along for a wild Los Angeles-area police chase in a stolen RV, including one who jumped out in the midst of it, are now ready for adoption.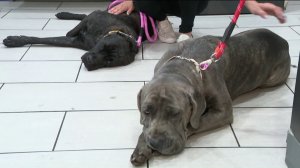 Onyx and Starlett garnered attention when they were spotted inside an RV during a wild police chase through the San Fernando Valley on May 21.
Starlett was seen jumping from the RV, which was falling to pieces following multiple crashes.
After recovering from their ordeal, the dogs are now available for adoption through the West Hills organization Foxy and the Hounds.
A 52-year-old Winnetka woman faces charges in connection with the pursuit.