This is an archived article and the information in the article may be outdated. Please look at the time stamp on the story to see when it was last updated.
More than 100 houses in Northern California being used by Chinese drug traffickers to grow marijuana were seized by U.S. federal authorities in a two-day operation that concluded Wednesday, officials announced.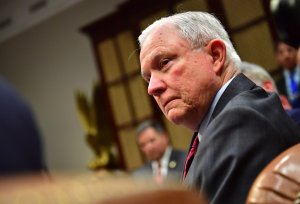 An investigation that began in 2014 resulted in one of the largest residential forfeiture efforts in American history, Attorney General Jeff Sessions said in a news release.
Another 61,050 marijuana plants, about 440 pounds of processed pot and 15 firearms were seized from the grow homes, which were being run by a multimillion-dollar criminal enterprise based in China, officials said.
"Transnational criminal organizations are a blight on our communities, bringing dangerous drugs to our streets and trying to impose a false sovereignty over our neighborhoods," Sessions said. "The day I was sworn in as Attorney General, President Trump ordered me to make dismantling these organizations a priority, and we are carrying out that order with vigor."
Hundreds of agents from federal and local law enforcement agencies descended upon the homes Tuesday and Wednesday after probing their activity for years.
Search warrants were served at 74 homes and two business offices suspected of being involved in the massive weed growing operation, and civil forfeiture actions were filed against more than 100 other homes across Sacramento, Calaveras, Placer, San Joaquin, El Dorado, Yuba, and Amador counties. Some of the homes that were searched will also be seized, the DOJ said.
The seized homes were being used to grow marijuana indoors and were not in compliance with state regulations, according to McGregor Scott, the U.S. Attorney for the Eastern District of California. The weed was then being distributed within the U.S., mostly on the East Coast.
"The scope of this enforcement operation sends a clear message to international organized crime: get out of our neighborhoods," Scott said. "If you don't, we will pursue you with all of the resources available to the federal government, seize your assets, search your properties, and target you for criminal prosecution."
Investigators were originally tipped off to the large-scale criminal activity by similar red flags that popped up across the locations they had already identified as marijuana grows. The houses' down payments were all paid through wires mostly from China's Fujian Province, and they used the same local relators, hard-money lenders rather than banks, and straw buyers, authorities said.
The homes were then filled with hundreds or thousands of weed plants, with the growing operation often taking up most of the house. Pot may be grown at home in California but only in small amounts, and business operations are required to obtain local and state permits.
As a result of their massive grows, the residences used an "extraordinary" amount of electricity to run the lighting, fans and other equipment involved, which also created fire and environmental hazards, according to the DOJ release. They were often rendered damaged or uninhabitable as a result.
DEA Special Agent in Charge John J. Martin described it as a "sophisticated large-scale organized criminal network operating in our backyard" and said the enforcement was meant to send a message: "You are not welcome."
The multi-year investigation was a collaborative effort between the DOJ, FBI, Drug Enforcement Administration, Homeland Security, Immigration and Customs Enforcement, IRS, California Highway Patrol, the Sacramento and Placer County sheriff's offices and Elk Grove police.