This is an archived article and the information in the article may be outdated. Please look at the time stamp on the story to see when it was last updated.
Enrique Marquez, the longtime neighbor and friend of San Bernardino shooter Syed Rizwan Farook, not only purchased two weapons used by Farook and his wife Tashfeen Malik in the Dec. 2 massacre, but also plotted with Farook several years earlier to carry out a similar attack at Riverside Community College or on the 91 Freeway, according to federal prosecutors.
Marquez met Farook around 2005 when he moved to Riverside and the two became next-door neighbors, according to an affidavit in support of a three-count criminal complaint filed against Marquez Thursday.
Marquez was introduced to Islam by Farook, and in 2007 converted to Islam, according to the U.S. Department of Justice.
By 2011, Marquez was spending most of his time at Farook's home listening to lectures and watching videos involving radical Islamic content.
In late 2011, Marquez plotted with Farook to attack the library or cafeteria at Riverside Community College, where both men had been students, according to the affidavit.
Their plan was to throw pipe bombs into the cafeteria from an elevated area and then shoot people as they fled.
Marquez and Farook also developed a plan to stop traffic on a portion of the eastbound 91 Freeway by throwing pipe bombs during rush-hour traffic.
Farook would then walk among the vehicles and shoot into them while Marquez fired from a nearby hill.
Marquez's job would be to also watch for law enforcement and fire on officers as they approached.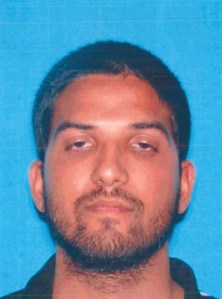 "Even though these plans were not carried out, Mr. Marquez's criminal conduct deeply affected San Bernardino County, Southern California and the entire United States when the guns purchased by Marquez were used to kill 14 innocent people and wound many others," U.S. Attorney Eileen M. Decker stated.
The complaint does not allege that Marquez was involved in the Dec. 2 terrorist attack or even had advanced knowledge of it.
However, "his prior purchase of the firearms and ongoing failure to warn authorities about Farook's intent to commit mass murder had fatal consequences," Decker said.
Hours after the shooting, Marquez called 911 and told the dispatcher his neighbor "did the San Bernardino shooting," according to a transcript in the criminal complaint.
"The f—ing a–hole used my gun in the shooting," Marquez said.
The firearm was left with Farook "only for safe storage," Marquez said.
"To me he was reliable enough … for storage," he said.
Then, the day after the shooting, Marquez went to the emergency room at Harbor-UCLA Medical Center, the criminal complaint stated. He said he drank nine beers after being told by his mother that federal firearms investigators went to her home to ask about him.
He was referred to a psychiatric ward and placed on involuntary hold.
Marquez was arrested and charged Thursday with conspiring to commit crimes of terrorism with Farook in 2011 and 2012, unlawful purchase of two assault rifles, and entering into a sham marriage with a member of Farook's extended family so that she could obtain legal status in the United States.
In return for his participation in the fraud, Marquez's wife paid him $200 per month.
KTLA's Melissa Pamer contributed to this report.