This is an archived article and the information in the article may be outdated. Please look at the time stamp on the story to see when it was last updated.
A dolphin was found deceased from an apparent bullet wound earlier this month on Manhattan Beach, authorities said Friday.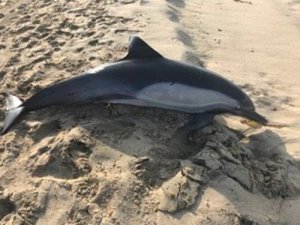 The dolphin was found on Nov. 8 after officials responded to reports of a dolphin washing up in the surf and had one bullet hole, Peter Wallerstein, of the Marine Animal Rescue, said.
"There is no excuse for such brutality against these beautiful animals," the Marine Animal Rescue said on its Facebook page.
A $5,000 reward was being offered for information leading to the conviction of the person who shot the dolphin.
No other information was available.
KTLA's Jennifer Thang contributed to this story.