This is an archived article and the information in the article may be outdated. Please look at the time stamp on the story to see when it was last updated.
Berkeley police stumbled onto a massive psychedelic mushroom operation while investigating a domestic disturbance, seizing 677 pounds of mushrooms with an estimated street value of more than $1 million, authorities said.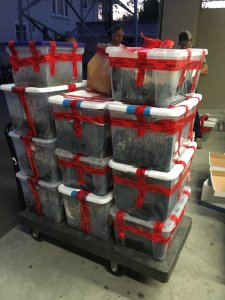 Two people — a 35-year-old man and a 37-year-old woman — were arrested in the bust late Saturday, according to the Berkeley Police Department.
Authorities were called to the home in the 1700 block of Alcatraz Avenue about 10 p.m. regarding a domestic disturbance between a couple. The occupants initially refused to open the door, but eventually came outside and were detained.
Officers then entered the house to search for other occupants, suspects or victims and discovered a "large-scale" mushroom processing operation, with psilocybin mushrooms in various stages of cultivation in plain view, along with storage and distribution materials.
Read the full story on LATimes.com.