This is an archived article and the information in the article may be outdated. Please look at the time stamp on the story to see when it was last updated.
A crowd of several hundred people flooded into the streets in Costa Mesa outside the venue where Republican presidential frontrunner Donald Trump kicked off his California campaign with a huge rally Thursday night.
The group grew even larger as the rally concluded at the Pacific Amphitheater around 8:45 p.m., with sign-carrying protesters shutting down the intersection of Fair Drive and Fairview Road, aerial video of the scene showed.
Inside the amphitheater, Trump could be seen signing autographs as his Secret Service detail stood close by.
The Orange County Sheriff's Department had deputies on horseback and on foot working crowd control outside the amphitheater. They were being assisted by officers from Tustin and Costa Mesa police departments as well as the California Highway Patrol.
At one point, a protester began jumping up and down on the roof of a Costa Mesa patrol car and broke out the rear window, aerial video showed.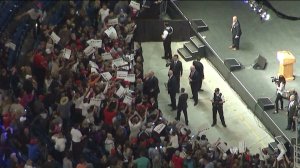 The front window of the patrol car was also smashed.
Several others then began to try to overturn the vehicle before officers finally moved in.
Aerial video showed several people being handcuffed when members of the crowd refused to disperse.
The Sheriff's Department later tweeted that approximately 20 arrests were made by Costa Mesa police officers.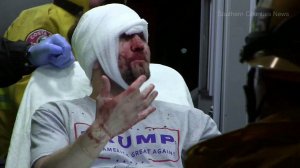 At least one Trump supporter was hurt during the protest. He was seen being placed into an ambulance with his face bloodied and his head wrapped with bandages. It was not clear how he was injured.
The event, set to begin at 7 p.m., got underway about a half-hour later at the OC Fair and Event Center, located at 88 Fair Drive.
A large crowd of people, mostly Trump supporters, started gathering outside the venue hours ahead of the scheduled start time, video from the scene showed.
There were several scuffles earlier in the evening outside the event between Trump supporters and those protesting his campaign.
#Trump protesters getting violent. Throwing debris at cars driving by pic.twitter.com/sLqrI1n6Zp

— Gina Ferazzi (@GinaFerazzi) April 29, 2016
The rally took place two days after at least five people were pepper-sprayed outside an Anaheim City Council meeting on Tuesday, where elected officials voted on — and rejected — a controversial measure that would have denounced the GOP contender's rhetoric.
Three people were treated at the scene after protesters fired off pepper spray, according to the Los Angeles Times.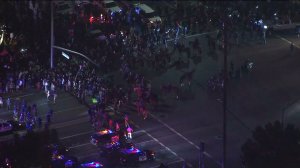 Investigators were working to identify suspects in the case, Anaheim Police Department Sgt. Daron Wyatt told KTLA after the incident.
Trump's Thursday event had been expected to draw many backers as well as critics.
The Democratic Party of Orange County and Orange County Young Democrats encouraged demonstrators to attend as part of a "peaceful protest," according to a Facebook event.
"We do not believe that there is any room for racism, sexism, religious bigotry, disregard for international law, violence, or any other such phenomena in our political discourse," a statement on the event page said.  "As such, we expressly condemn Donald Trump, declare that his values are not Orange County's values, and we urge all other citizens of Orange County to do the same."
California's presidential primary, among the last in the nation, has the highest number of delegates at stake with a total of 172 up for grabs.
After sweeping five primaries earlier this week, Trump moved significantly closer to the 1,237 delegates needed to win the nomination outright heading into the Republicans' convention in July. Trump's delegate total currently stands at 954, according to the latest Associated Press figures.
California's primary is June 7, but voters can cast their ballots by mail before then.
The latest poll, conducted between April 18 and 21, shows Trump leading in California by 27 percentage points.
The CNN Wire contributed to this story.