This is an archived article and the information in the article may be outdated. Please look at the time stamp on the story to see when it was last updated.
Voters in Beverly Hills who went to their regular polling place to cast ballots in Tuesday's primary found the doors locked.
Instead, voting stations were set up outside, and ballots were cast in the open air — without electricity to run ballot-reading machines — for several hours.
The confusion took place at the Paley Center for Media, the Los Angeles-area branch of the New York-based film and television nonprofit and museum, at 465 North Beverly Drive.
Due some kind of miscommunication with the center, the polling place was not able to be set up inside, a representative of the Los Angeles County Registrar-Recorder's office said.
When a center representative finally arrived at the location about 8:30 a.m. and saw voting taking place "al fresco," she allowed ballot boxes and voting materials to be moved into the center's lobby, according to an inspector for the precinct.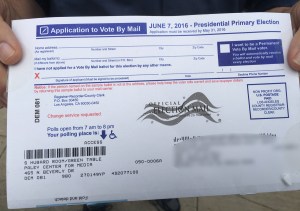 The center, which has acted as a polling location in past elections, told the county Registrar/Recorder months ago that it could not host voting on June 7, according to Cindy Braun, director of operations and external relations for the Paley Center.
Braun called the incident a "miscommunication," and said doors were not opened earlier to the makeshift polling station because work was being done inside in the wake of an opening that took place on site Monday evening.
Sample ballots sent to voters at the location, and the "find your polling place" page on lavote.net, indeed listed the Paley Center's Hubard Room as a polling place.
The center is closed Mondays and Tuesdays, according to its website.
Several hours after polls opened at 7 a.m., the voting booths were moved inside and materials were still being reorganized in the noon hour, the inspector told KTLA. That work should have been completed before polls opened, according to the inspector.
He stressed that voting never stopped.
Voters at several other locations in Southern California contacted KTLA to report what some described as "irregularities" at their polling stations, including missing voter lists, and confusion over provisional and crossover ballots.
Voting in Tuesday's presidential primary election was set to end at 8 p.m. across California.
Information on polling place locations is on the California Secretary of State's website.
KTLA's Jennifer Thang contributed to this article.