This is an archived article and the information in the article may be outdated. Please look at the time stamp on the story to see when it was last updated.
Deputies' use of Doritos to lure a large pig back home after it escaped in a Highland neighborhood earlier this month caught the attention of the snack maker, which has offered to "restock" their chip supply.
The unusual piece of police work took place on Oct. 13, when "Smalls" the pig got out of his yard and went for a stroll, San Bernardino County Sheriff's Officials said.
Responding deputies recognized the wayward swine and knew where it lived, officials said in a written statement.
Thinking quickly, a deputy reached into her lunch bag and pulled out some Poppin' Jalepeno-flavor Doritos. The deputies then laid down a trail of chips to lure the pig, which happily cooperated with the plan.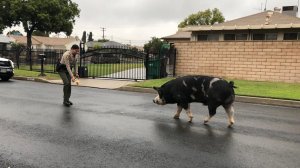 In a letter sent to the Sheriff's Department, Doritos representatives commended the deputies for handling the situation, "in one of the boldest, most clever ways possible."
"For that, we salute you," according to Doritos, adding that it would "restock your Doritos snacks for many lunches to come."
"You protect, we'll serve… the Doritos," the company said.
Thank you @Doritos for supporting the hardworking men and women of the San Bernardino County Sheriff's Department. We're looking forward to those snacks… Stay tuned 😏🎥 pic.twitter.com/5NFO3B9md9

— San Bernardino County Sheriff (@sbcountysheriff) October 26, 2018